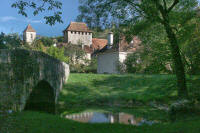 St-Martin-de-Vers and Bridge
The old bridge crosses the Vers River (really more of a creek). Our house is at the right.

Millpond
A nice young French couple, Julien and Anne, have bought the old mill in the village and come each weekend to work on restoring it. They have a huge job ahead of them!

Poplars - Early Morning
A typical misty morning, just across the bridge from our house.

Lot Valley at Vers
The Lot Valley is a popular destination for boating and sightseeing. Our village is 13 km (about 8 miles) up the valley in the background.

Classe de Cuisine
One morning we joined a cooking class where everyone pitched in to prepare a typical autumn meal - aperitif, salade, entree (crepes stuffed with wild mushrooms), main course (wild boar stew), dessert (pastis du quercy, a sort of local apple pie), coffee, and of course wine.

Menu Safran
Saffron has been produced in our region since the Middle Ages. During the Renaissance, much of it went to Lyon as a dye for silk. We attended the autumn festival, including a meal where every course was flavored with saffron.

Segala Dancers
The eastern part of the Lot department is known as the Segala, as it is a rugged area origionally suited only for growing rye (segala). These dancers from the area performed at the saffron festival. The little guy at the left was surpringly capable and poised for his age.

Rocher des Aigles
This raptor center near Rocamadour has a very impressive show of hawks, eagles, vultures and more.

Tourists in Paris
We visited Paris for a few days in November. It was cold but a great time to see the tourist sites, as there were no crowds. We climbed a great many steps to the top of the Arc de Triomphe, only to discover (after we had walked down, too) that there's also an elevator!

Musee d'Orsay
The Orsay Museum, located in a former railroad station, houses France's sculture and painting masterpieces of the late 19th and early 20th centuries, including the Impressionists.